Alas, I get to squeeze in a few updates before going back to the world of toxicity called post-processing, hehe. We need to finish all queued tasks (4 albums, 4 prints-only sets, yada yada…) before the wedding season in December starts. Anyhoo, in case you missed me the last couple of weeks (or not :P) here's what I've been up to (as if you don't know LOL):
– Doing AVPs, prenup prints and guestbooks of the November/December couples.
Arman & Maricon wanted guest sheets instead of a guestbook so they can place a sheet on each table. (Hopefully the sheets won't be mistaken as souvenirs, just like what happened to another couple, hehe.) The design below 's my fave as it reminds me of an energy drink ad. 🙂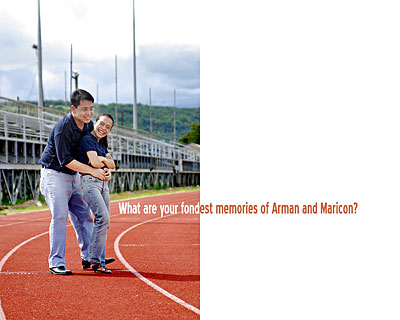 – Finishing up some April/June albums including the long due Aggie & Edil album. The creative juices weren't flowing that much so it took a while to finish LOL. Although sometimes, there are photos that you already know how to layout even before taking them, like the ones in this spread: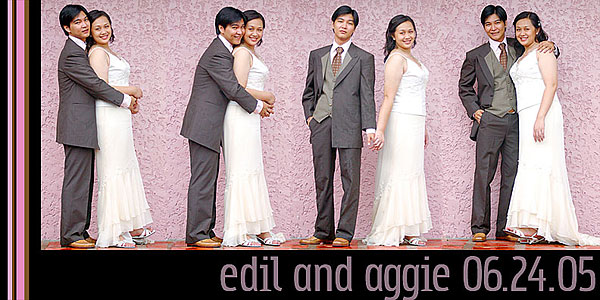 (Currently awaiting approval of the layouts)
– Shooting engagement portraits of our December/January couples.
Ivan & Bea initially wanted to have their prenups in Baguio but due to conflicts in schedule, decided to have theirs in Tagaytay. Then it was changed to Punta Fuego but Fuego management won't allow them to do so since they're not getting married there even though they're members. Labo no? Fortunately, there's Kawayan Cove beside Fuego… and we had the place all to ourselves pa! 🙂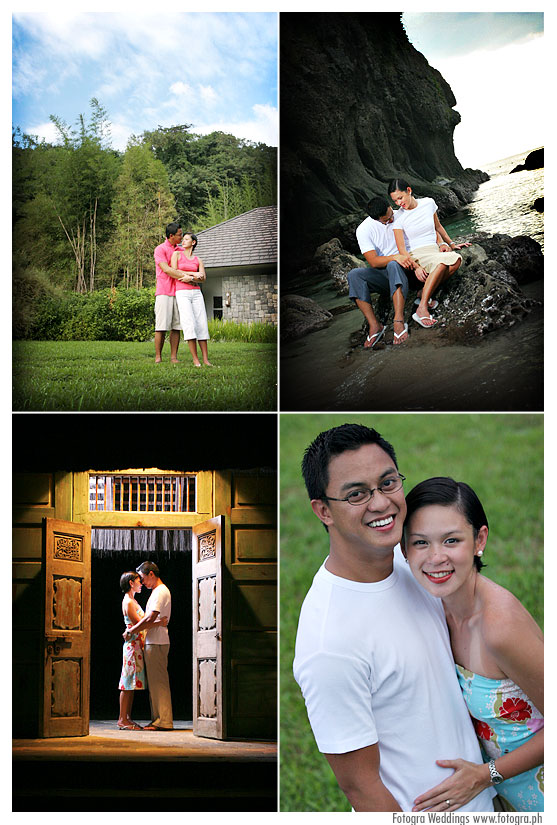 – Editing/trimming/uploading recent wedding photos.
Remember them? They got hitched last month and true to their nature, bursted out laughing during the marriage rites… napagalitan tuloy ng pari hihihi.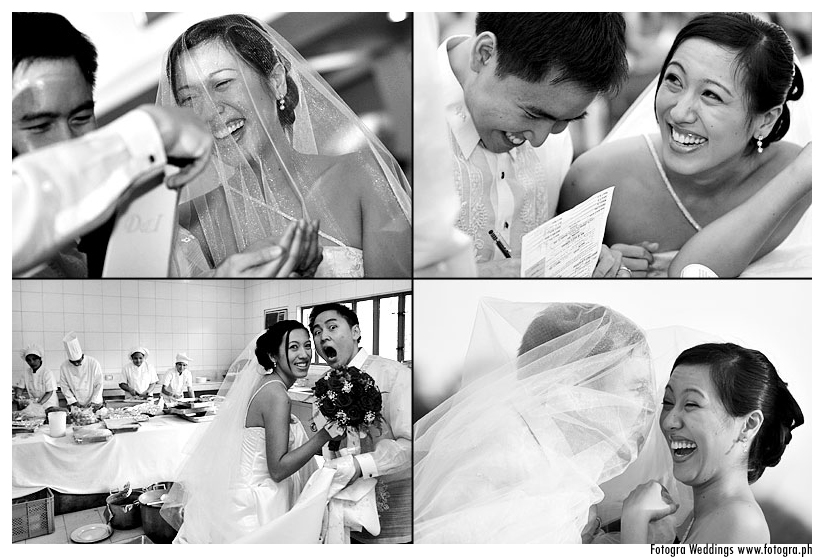 Rest of the photos are here.
The latest wedding we covered was Issa & Nico's in Clark. It had been raining the whole week so there was no choice but to move the outdoor reception to the ballroom; the sun shone on the wedding day. Nang-inis hehe. Anyway, here are some of Issa's portraits: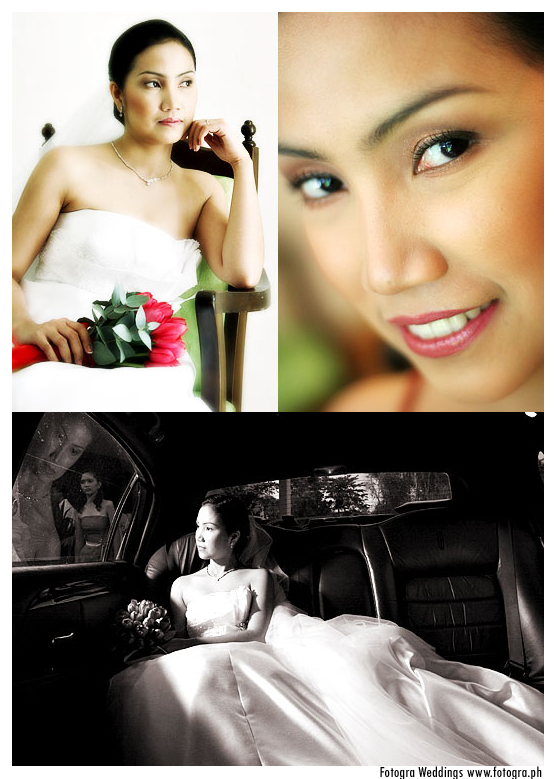 Gown by Veluz; hair & make-up by Eddie Bruan. More photos here.
***
Other recent shoots — Clockwise: Coconut Palace, Nayong Pilipino, Westin, UP Diliman

We're having an Enchanted Kingdom prenup this afternoon, hopefully the sunset will be as beautiful as the ones above. *cross fingers* Sarada pala ang EK pag Mondays & Tuesdays. 😛
Till the next monthly update… LOL