My brother, Gerson, and Delphine, wanted a 'not-typical-but-still-chill-wedding' and for everyone to just enjoy the day. With just friends and family helping them out (wait, what, no wedding suppliers? *gasps*), and an unusual wedding theme (Pinoy Bohemian), these two were able to pull it off.
Delphine's handpainted wedding gown by Patis Tesoro, a family friend:

Gerson's shirt was our dad's (something made for him for my wedding), and Patis added some color to it:

Their wooden wedding rings:

Wedding paraphernalia with Pinoy touches — veil, cord, misalette and the invite that Gerson designed:

Their missalettes were painted in watercolor by Delphine's sister:

Even their offertory baskets and flowers were prepared by Delphine's parents:

Leather bracelets as gifts for the entourage:

They did away with hotel preps and just dressed up in their respective houses:

To keep their guests busy (and socializing!) before and after the ceremony, they gave away human bingo cards:

And even had dirty ice cream and fishball stalls for the guests to enjoy:

The church in Marikina was along the banks of the Marikina River.

Delphine arrived in a pickup:

Just before walking down the aisle, the bride got entangled in the ribbons and had to twirl to get out. Now, that's a bridal entrance!
We didn't know that there was a religious procession after the ceremony. A lot of people were already waiting outside the church. :p

The Marikina River at sunset is a scenic beauty: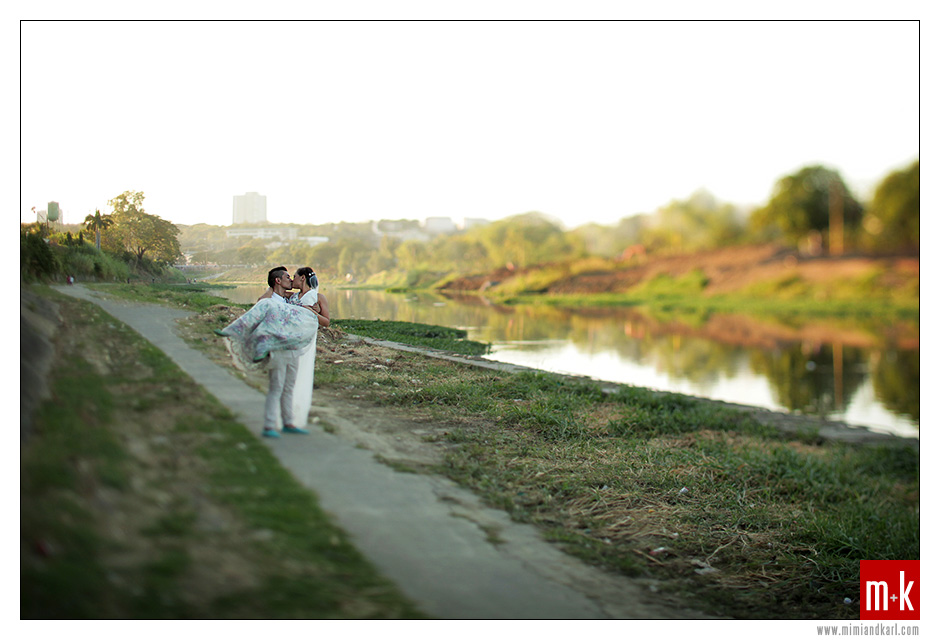 Played around with the huge letters that Delphine's friends brought as props:

The reception venue was a few steps away from the church so the couple decided to just walk…

One of the highlights of the reception was the father-daughter / mother-son dance that became a group dance!

It was a fun night of singing, drinking, and more dancing!