As mentioned in an earlier post, we have a wedding featured on the 2006 issue of Beautiful Weddings. VJ and CJ's wedding was held last December at Punta Fuego in Batangas and I'd like to share a few more photos of their day.
When we first met VJ and CJ, we hit it off right away. Maybe it was because we shared the same sense of humor or it was more about them being a really funny couple. Save for our initial meeting, our consecutive ones lasted 3 to 4 hours wherein we just talked, at first about their wedding plans, but then later turned to anecdotes about their family and friends. It was funny because during the wedding, I was able to recognize their barkada from their stories.
VJ, the groom, coordinating the reception setup by phone. He actually dressed up at the last minute as he was going back and forth from the casitas to the church, to the reception venue.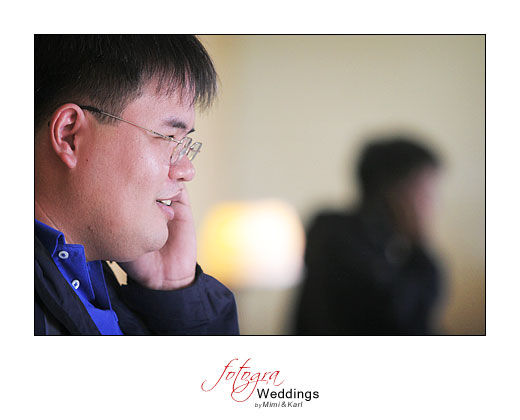 CJ taking a yosi break. The view from the Fuego casitas is just breathtaking.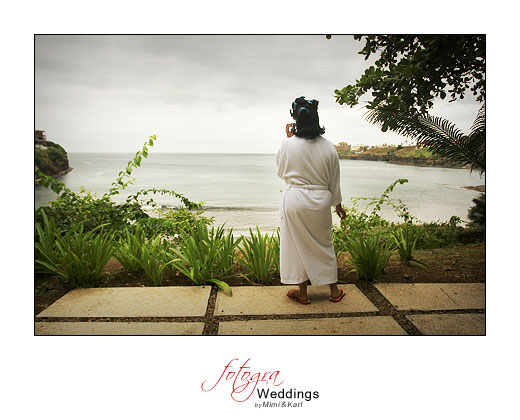 The Monsignor of Nasugbu officiated the wedding and boy, was he a hoot. He had everybody laughing…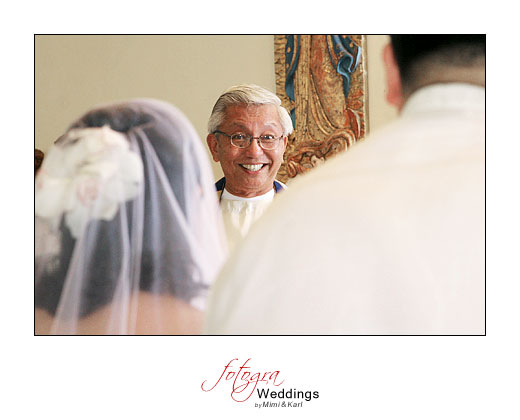 …specially the bride and groom.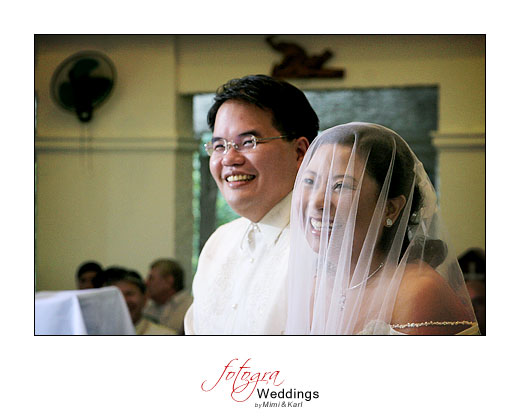 On the mag feature, CJ wrote that they wanted "Hey" by the Pixies as their first dance song but decided against it for fear of scandalizing their parents. :laugh: That would have been cool though, they could have choreographed it like the dance on Romy and Michelle's High School Reunion and a special gesture on the "UH!!!" parts.
Their first dance turned out great anyway, as one could really see how madly in love they are.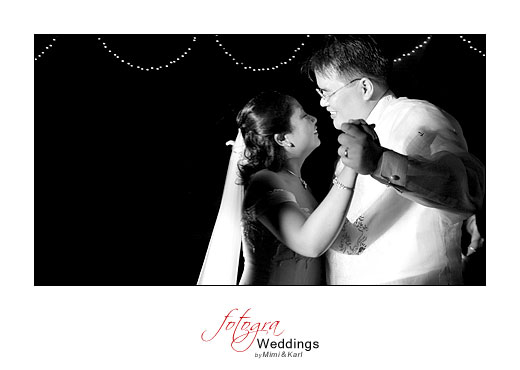 The Brass Munkeys provided the entertainment. Personally, I think this band is just perfect for weddings. Their repertoire includes songs from Frank Sinatra to Metallica and with that range, the tandercats and the bagets can both enjoy the music. Did I mention that they are very visual when they perform? You can't go wrong with the pin striped suits combined with their crazy antics. (The horns version of Enter Sandman is my favorite! :headbang:)