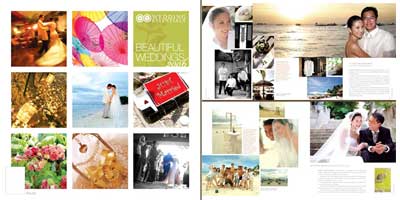 (photo nicked from Cynthia's Blog)
Mimi and I finally got our copy of WE Beautiful Weddings Magazine last Thursday after going to the Wedding Congress a week earlier looking for an advanced copy. Beautiful Weddings is brought to you by the same folks of Weddings Essentials Magazine and it features wedding stories straight from the brides themselves. Our client-turned-friend CJ wrote a wonderful account of their wedding from preparations to the reception. Thank you CJ for the special mention. :blush:
Congrats to Marbee and Cynthia for churning out another kickass mag. WE is doing such a great job in promoting creativity and style in the Philippine wedding industry and I wouldn't be surprised if one day Grace Ormonde's Wedding Style magazine will be known as Marbee and Cynthia's Wedding Style magazine. :winking:
You can read more about the mag at Cynthia's blog. May napansin lang ako sa lahat ng issue ng WE… bakit laging blurred ang photo ni Marbee?